Home

Aljezur farmhouses for sale

Algarve west coast climate; the best weather in Europe?

Contact

Odeceixe beach

Control of the red palm weevil

Vicentina natural park wildlife

Heating options

The truth about coastal property

What is natural park Costa Vicentina?

Building and renovating in western Algarve

Portugal land scams

Fishing on the Vicentina coast

Western Algarve agriculture

AFPOP

Utilities in Portugal

Schools in Aljezur

Solar home heating plans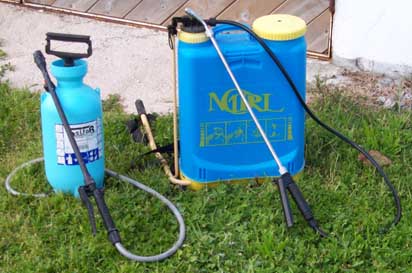 Control of the red palm weevil in the Algarve
Chemical recommendations for palm weevil control

This is a 5 liter and a 15 liter sprayer. these are inexpensive and available from any farm store or co-op.
The 5 liter one can be pumped up and left to run out slowly [with the lance in the crown of the tree]. But you'll need to refill it 4 times [depending on the size of the tree].
The 15 liter will do a small tree in one go [4 fillings for a medium tree], but needs to be pumped every minute or two. It will take an hour or more, so you'll need patience. Don't spray the pesticide onto the leaves; very little will make it into the trunk of the tree where you need it. The solution has to be poured slowly into the crown, over a period of a few hours, or longer for a tall tree.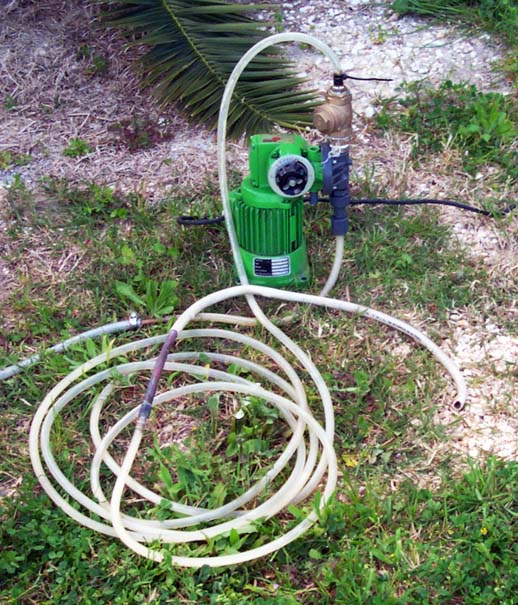 This is what I'm using at the moment; a dosage pump. It runs at about 5 liters per hour, and I just let it run overnight, pulling from a 50 liter barrel. Note the hooked section of metal pipe at the end of the tube; I just hook it into the top leaves so the open end directs the stream into the crown.
None leaks down the side, it all soaks into the tree. I bought this at a market years ago, so I can't say the cost or where you could get one. A search on ebay for "dosing pump" turns up a lot of them, from GBP 60 upwards.

For my smaller trees that only need 10 liters of solution, I just use a bucket and a dipper. I pour in about a liter, then come back after a half hour and pour in another, until the bucket is empty. If you stand on a stepladder, even 10 and 15 year old trees can be treated this way.

There are other pumps and methods of course; if you have any pictures and descriptions, I'd be pleased to post them here. please say where it's available and the price if you know it.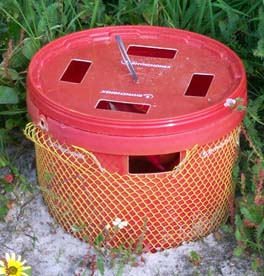 This is a pheromone trap; inside is some water with rotten fruit in it [the fruit is essential]. And hanging above the water are 2 sachets with pheromone lure.
The weevils love to congregate, and this bucket smells like a major bug party to them. They clamber up the handy netting, throw themselves through the hole, and simply drown.

The pheromone gets expensive at around E10 each for the male and female lures. they need to be replaced after 3 months.

I've decided they are not useful for protecting trees in a private setting [if you have a thousand trees, that's different]. Traps are useful for monitoring large areas, but since you'll have to dose your trees with pesticide anyway, I can't see the use of them for small holders.